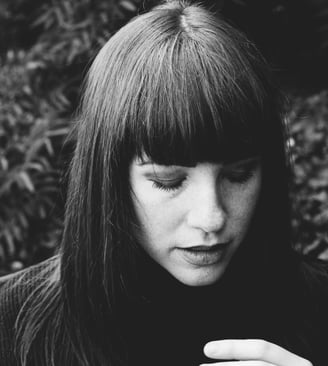 Elsa Jayne is an Anishinaabe singer-songwriter and mother who lives Halifax/Kjipuktuk. A multi-instrumentalist and dynamic vocalist, her songs range from folk ballads to dreamy synth-led anthems.
A proud member of Mississaugas of Scugog Island First Nation, Elsa grew up in Southern Ontario, performing in the Waterloo Region and across Canada. Elsa uses her art to discover the Anishinaabemowin language of her people, often inserting simple words into her songs as a way of preserving the language and spreading literacy. Inspiration and a love for the East Coast, led Elsa and her family to settle in Halifax/ Kjipuktuk where they enjoy the beauty of the day-to-day and are grateful to live on the ancestral and traditional lands of the Mi'kmaq people.
Her most recent album, All My Relations, was released October 2018 right before her first child was born. This full-length album encapsulates the feelings of becoming a new mother, the pain of miscarriage, the joy of love, and the painful reality that residential schools caused many Indigenous children and their communities. The heaviness of these songs is offset by Elsa's whimsical songwriting sensibility that comes across through lilting melodies and interesting synth and drum sounds. Her disarming voice is often compared to that of Sarah McLaughlin, Enya and Alanis Morissette.